SEO - Search Engine Optimization
SEO stands for Search Engine Optimization. We can help you make your online presence considered high-quality by search engines, which will push you up in the rankings. Having a good ranking in search engines determines whether your website will be visited or not.
If your website is visited, you will save a significant amount of money on advertising and other supporting investments. With a good website, you can make money faster.
We could write a lot of information here about how to optimize websites and achieve excellent rankings. Instead of these words, we let our references speak for us. In them, you will find successful websites, online stores, and custom systems.
SEO evaluation of our portals
We achieve 100% rating in independent SEO analysis with various of our portals. And as you can see from the screenshots, it's not as easy as it looks for other foreign websites on the left. But we succeed.
Being on the first page of search engines or even in the first position is achievable. Thanks to SEO optimization and a good core, our systems are highly visible. And this is achieved in the long term!
Do you want long-term proof of our SEO work?
Search term (position of website/store from our implementation)
Fototapeta (1st position)
xComfort (1st position)
Ferrari shop (SHOPiq.cz: 2nd position)
Umbro (Umbroshop.cz 4th position)
Formule shop (2nd and 3rd position)
Obloukové haly (AG Haly: 2nd position)
Powerball (SHOPiq 8th position)
Dopravníky (VVV Most iTes 3rd position)
Dopravní pásy (VVV Most - 5th position)
Red Bull shop (SHOPiq - 4th position)
Hydraulické oleje (19th position)
Fotbal shop (xFotbal + SHOPiq - 5th and 9th position)
14.07.2022, seznam.cz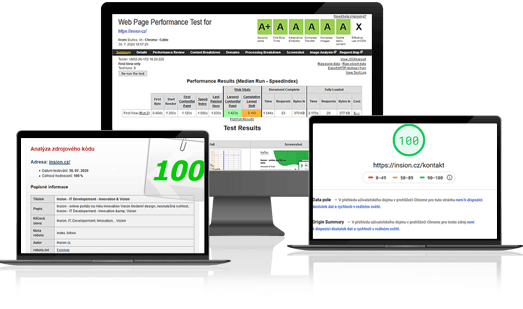 Search term (position of website/store from our implementation)
Fototapeta (1st position)
xComfort (1st position)
Ferrari (SHOPiq.cz: 3rd position)
Umbro (Umbroshop.cz 1st position)
Formule shop (2nd and 3rd position)
Obloukové haly (AG Haly: 5th position)
Powerball (SHOPiq 3rd position)
Dopravníky (VVV Most iTes 4th position)
Dopravní pásy (VVV Most - 5th position)
Masážní křeslo (SHOPiq 1st position)
Red Bull shop (SHOPiq - 2nd position)
Hydraulické oleje (11th and 19th position)
Fotbal shop (SHOPiq - 2nd and 5th position)
05.04.2021, seznam.cz
Search term (position of website/store from our implementation)
Fototapeta (1st position)
xComfort (2nd position)
Ferrari (SHOPiq.cz: 3rd position)
Umbro (Umbroshop.cz 1st position)
Formule shop (2nd and 4th position)
Obloukové haly (AG Haly: 11th position)
Powerball (SHOPiq 5th position)
Dopravníky (VVV Most iTes 6th position)
Dopravní pásy (VVV Most - 5th position)
Masážní křeslo (SHOPiq 14th position)
Red Bull shop (SHOPiq - 2nd position)
Hydraulické oleje (2nd and 12th position)
Fotbal shop (SHOPiq - 2nd and 3rd position)
27.11.2019, seznam.cz
Search term (position of website/store from our implementation)
Fototapeta (1st position)
xComfort (1st position)
Ferrari (SHOPiq.cz: 1st and 4th position)
Umbro (Umbroshop.cz 1st position)
Formule shop (2nd and 3rd position)
Obloukové haly (AG Haly: 6th position)
Powerball (SHOPiq 3rd position)
Dopravníky (VVV Most 5th position)
Masážní křeslo (SHOPiq 8th position)
Dopravní pásy (VVV Most - 5th position)
Red Bull (SHOPiq - 5th position)
Hydraulické oleje (5th and 11th position)
Fotbal shop (SHOPiq - 4th and 5th position)
12.01.2019, seznam.cz
Search term (position)
Fototapeta (1st position)
xComfort (1st position)
Ferrari (SHOPiq.cz: 2nd and 5th position)
Umbro (Umbroshop.cz 1st position)
Formule shop (2nd and 3rd position)
Obloukové haly (AG Haly: 10th position)
Powerball (SHOPiq 4th position)
Dopravníky (VVV Most 3rd position)
Masážní křeslo (SHOPiq 5th position)
Dopravní pásy (VVV Most - 5th position)
Red Bull (SHOPiq - 5th position)
Hydraulické oleje (8th and 9th position)
Fotbal shop (SHOPiq - 4th and 10th position)
04.01.2019, seznam.cz
Search term (position and number of competing records)
Fototapeta (1st position out of 4,300,000)
xComfort (1st position out of 490,000)
Převodové oleje (4th position out of 5,300,000)
Ferrari (SHOPiq.cz: 5th position out of 10,400,000)
Umbro (1st position out of 1,900,000)
Formule shop (2nd and 3rd position out of 990,000)
Obloukové haly (AG Haly: 6th and 11th position out of 148,000)
Hodinky Adidas (SHOPiq - 6th position out of 4,400,000)
Pat a Mat trička (Dekoraceproděti - 1st position out of 580,000)
Živé vysílání (VUONS.net - 12th position out of 30,000,000)
Powerball (SHOPiq 4th and 6th position out of 1,080,000)
Dopravníky (VVV Most, i-TES - 11th position and 20th position out of 1,067,000)
Dopravní pásy (VVV Most, i-TES - 5th and 7th position out of 1,700,000)
Red Bull shop (SHOPiq - 4th position out of 680,000)
Hydraulické oleje (5th position out of 4,000,000)
22.3.2017, seznam.cz
Search term (position and number of competing records)
Fototapeta (1st position out of 4,640,000)
Převodové oleje (4th position out of 4,600,000)
Ferrari (SHOPiq.cz: 6th position out of 10,200,000)
Umbro (1st position out of 1,790,000)
Formule shop (2nd and 3rd position out of 1,130,000)
Obloukové haly (AG Haly: 9th and 11th position out of 132,000)
Hodinky Adidas (SHOPiq - 4th position out of 3,480,000)
Pat a Mat trička (Dekoraceproděti - 1st position and 2nd position out of 577,000)
Živé vysílání (VUONS.net - 15th position out of 9,600,000)
Powerball (SHOPiq 5th position out of 1,080,000)
Dopravníky (VVV Most, i-TES - 11th and 19th position out of 1,130,000)
Dopravní pásy (VVV Most, i-TES - 4th and 5th position out of 1,700,000)
Red Bull shop (SHOPiq - 3rd and 9th position out of 746,000)
Hydraulické oleje (2nd position out of 4,000,000)
17.2.2017, seznam.cz
Search term (position and number of competing records)
Fototapeta (1st position out of 1,800,000)
Převodové oleje (2nd position out of 2,700,000)
Ferrari (SHOPiq.cz: 4th position out of 5,700,000)
Formule shop (2nd and 3rd position out of 450,000)
Obloukové haly (AG Haly: 6th position out of 74,000)
Hodinky Adidas (SHOPiq - 3rd position out of 1,157,000)
Brusiva (BrusTech - 7th position out of 1,271,000)
Pat a Mat trička (Dekoraceproděti - 1st position and 2nd position out of 191,000)
Alkohol tester (Elife - 6th and 8th and 10th position out of 1,737,000)
Živé vysílání (VUONS.net - 9th position out of 30,000,000)
Powerball (SHOPiq 5th position out of 1,080,000)
Dopravníky (VVV Most, i-TES - 11th position and 20th position out of 1,067,000)
Dopravní pásy (VVV Most, i-TES - 7th and 8th position out of 1,700,000)
Red Bull shop (SHOPiq - 4th position out of 680,000)
Hydraulické oleje (8th and 9th position out of 4,000,000)
17.12.2014, seznam.cz
Search term (position and number of competing records)
Fototapet (2nd position out of 784,000)
Ferrari (Ferrari shop: 3rd position out of 7,004,000)
Video konference (2nd position out of 90,000)
Formule shop (2nd position out of 454,000)
Haly (Arch Global: 17th position out of 8,700,000)
Obloukové haly (Arch Global: 6th and 11th position out of 47,400)
Hodinky Adidas (SHOPiq - 6th position out of 1,844,000)
Brusiva (BrusTech - 8th position out of 1,274,000)
Pat a Mat trička (Dekoraceproděti - 1st position out of 580,000)
Živé vysílání (VUONS.net - 14th position out of 30,000,000)
Powerball (