xComfort - Smart Control
Your smart home or house will automatically ensure your comfort. Control your home, space, comfort, time, energy, and money smartly and easily with EATON xComfort. As a result, you save expensive energy.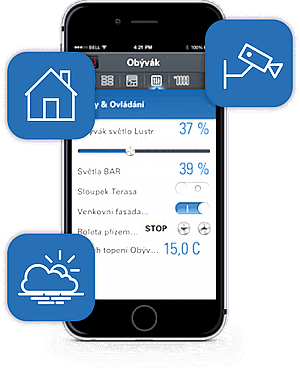 Control lighting
and simulate presence in the house
Remote heating control,
manage plans and modes
Smart controlled outlets charge electronics
and activate appliances
Raising blinds, shutters
and programmed shading
Set ventilation, heat recovery
according to your preferences
Irrigation for your lawn,
pumps, battery-powered mowers
Security, alarm,
cameras, security systems
Consumption overviews, graphs
of temperature, humidity
Smart home
You don't need to completely rebuild the electrical installation. Everything is done almost the same way. You also have the option to have most rooms in the house as "classically" - normal lights and switches, for example in the corridor, technical room, garage. But you can also specify that certain areas or elements will be "controlled, smart". This saves on wiring, maintenance, and data cables to switches. You just need to install xComfort smart devices on a 230V wiring. And you can control the devices with smart wireless switches, or your mobile phone, or according to a customizable schedule.
That's why wireless electrical installation is suitable not only for new buildings but is increasingly used in existing apartments and houses, where integration is very simple and often does not require any construction modifications. If you prefer traditional wired connections, that's not a problem either.
You can connect the control devices with cables and operate them traditionally. You don't even need xComfort switches, ordinary switches will do.